Hair Weaving in Bangalore
Best and Affordable Hair Weaving in Bangalore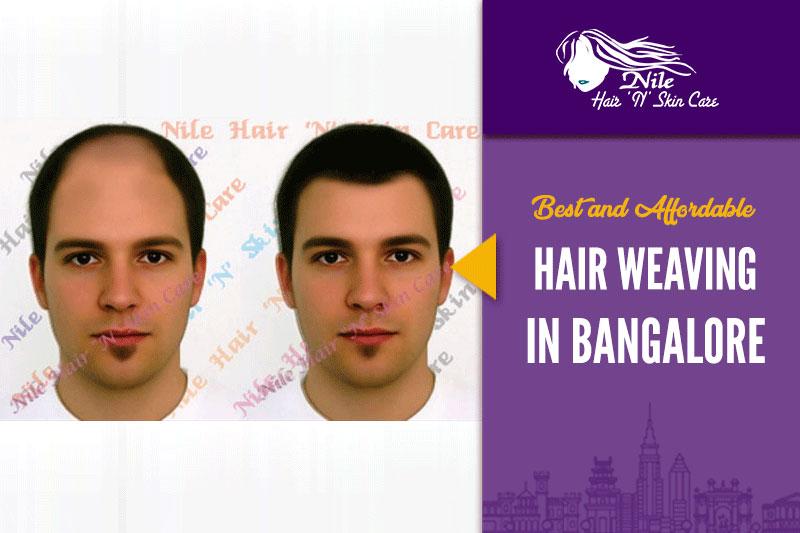 Nile Hair Care



4.9

out of

5
based on
2374
ratings.
Hair is one of the most important assets for both men and women and people are quite conscious about the peculiarities in length, thickness, and style of their hairs.
Nowadays, lots of people irrespective of their gender are losing hairs, leading to several hair loss problems and eventually baldness. Hair weaving is a safe and non-surgical way to cover baldness.
Hair weaving treatments are now getting more and more popular in India. We, at Nile® hair 'N' Skincare offer complete hair weaving services to many clients in and across Karnataka We, are the leader in providing gents hair weaving at cost-effective prices.
We also Provide Hair Weaving in Delhi
Benefits of Hair Weaving
Hi-Tech Non-Surgical
100% Safe
Pain Less
2 Hours Procedure
Permanent Fixing
Natural Looking
FAQ's for Hair Weaving in Bangalore
What is Hair Replacement / Hair Fixing?
Hair replacement / Hair Fixing is a non surgical treatment to cure the partial . Hair replacement basically involves fixing additional strands of hair (Hair Patch) to the Baldness area.
---
Is hair replacement / Hair Fixing suitable for completely bald people?
No, hair replacement / Hair Fixing can be done only to the partial bald scalp.
---
What is the different between Hair wigs & Hair Patch (hair system, hair piece, Hair unit)?
Hair patch is a kind of hair wigs but they are smaller in size & very naturally looking than the full wigs. Hair wigs is suitable only for completely bald scalp.
---
What is Hair Weaving?
Hair Weaving is a one of the technique of Hair Replacement / Hair Fixing, where we fixed the Hair Patch or hair System with finely braided base; braided base is made by taking support of your existing hair without any harm to the skin, Hair Weaving is fixed procedure.
---
How Long does it take to have Hair Weaving?
Hair Weaving procedure about 2hrs.
---
Related Services for Hair Weaving