Hair Replacement in Bangalore
Best and Affordable Non-Surgical Hair Replacement in Bangalore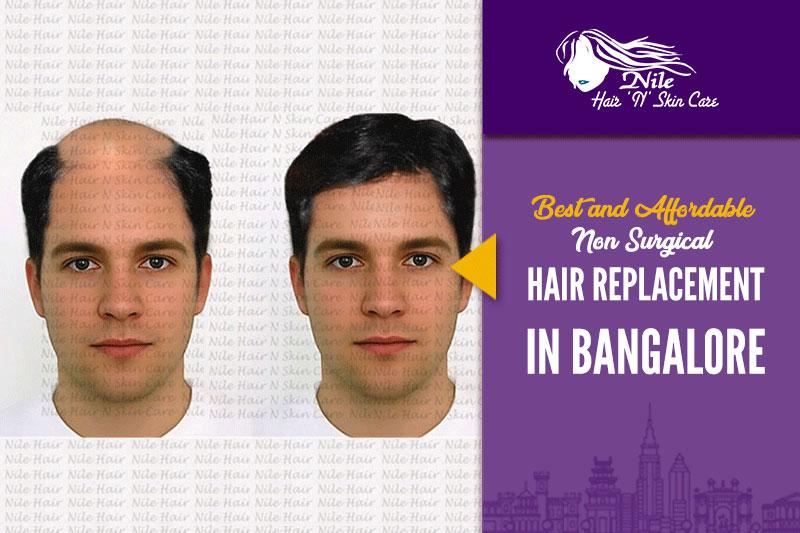 Nile Hair Care



4.9

out of

5
based on
2374
ratings.
Hair Replacement also is known as Hair Silicon System is a Non-Surgical Hair Transplant treatment for partial baldness. In this hair replacement system, we use silicone gel to fix the hair unit (Hair Systems or Hairpieces) in the baldness area.
This is a fixed procedure for baldness treatment where you can take bath, swim, gym, sports etc soon after the treatment. In other words, we can say that you can treat same like your own original hair. It gives you 100% natural look.
This hair replacement treatment is suitable for both Men and Women.
Non-Surgical Hair Replacement
Hair Silicon System is the latest treatment to Cure Partial Baldness. Hair Replacement is preferable to hair transplants because it is a Non-Surgical & you can get the proper volume or density compare to Hair Transplant within no time.
By Hair silicon you can have a gorgeous and natural looking head of hair in relatively little time, you can make the hairstyle it in any ways you prefer.
Benefits of Non-Surgical Hair Replacement
Non-Surgical:

Since hair replacements are non-surgical, you avoid the possible complications and pitfalls of surgery

Guaranteed Results:

Hair replacement systems provide immediate results that can be experienced by anyone despite the age, gender, health history or amount of hair loss

Reversible:

Unlike surgical hair transplants, hair replacement systems are reversible

No Limits:

Non-surgical hair replacement systems successfully work on women, men and even children.
We also Provide Hair Replacement in Delhi
FAQ's for Hair Replacement in Bangalore
What is different between Hair Bonding, Hair Weaving & Hair Silicon system?
Hair weaving & Hair silicon system are fixed procedure & hair bonding is detachable procedure. In case of hair weaving & hair silicon system, you can do all your daily activities normally - like taking bath, swimming, Gym, playing etc. Or we can say you can treat like your own hair. In case of hair bonding you need to remove the hair patch before taking bath or swim, or you need to take extreme care while taking bath, swimming, Gym and playing.
---
What is Hair Silicon System or Silicone Hair

Fixing?

Hair Silicon System or Silicone Hair Fixing is also one of the techniques of Hair Replacement / Hair Fixing, where we fixed the Hair Patch or hair System on your scalp by applying the Silicone Gel.
---
Is Silicone gel is safe for Skin?
Yes, silicone gel is safe for the skin.
---
Can I take bath after silicone hair fixing?
Yes, you can take bath normally after fixing.
---
Related Services for Hair Silicon System